BIOSAFE® by Cryotherm has been a synonym for quality and safety for a long time. Experience, the technology and our know-how make it easy for you to decide on BIOSAFE®. Cryoconservation by means of deep cold liquid nitrogen is an established practice in science, research, medicine, environmental research and technology. Safely cold down to -180 °C in the gas phase an inert atmosphere enables problem-free freezing and storage of valuable medicinal and biological samples and materials.
Our BIOSAFE® consists of:
CHRONOS® recipientes de armazenamento de temperatura profunda para a preservação e armazenamento
BIOSAFE® CONTROL ß – the level controller and vessel monitoring system for a reliable supply of deep cold liquefied nitrogen.
BIOSAFE® MDß … … is approved as a medical product, class IIa, according to the Medical Device Directive 93/42/Emedicine. With this medical product cell and tissue samples are preserved cryogenically long term for reintroduction to humans by using deeply cold liquefied nitrogen as a cooling agent.
BIOSAFE® SCß … … is the version for research, medicine and the environment when the samples to be preserved are not to be reintroduced to humans.
The BIOSAFE® advantages:
full storage capacity in gas phase storage
nitrogen reserve under the platform is sufficient – depending on the size of container – for up to 2 weeks • redundant hardware for software independent monitoring of minimumalarm and maximum-alarm
deep temperatures of -180 °C whether small or large containers and whether wide-neck containers or carousel system • service (commission only) for start ups and carrying out qualification (IQ/OQ)
remote monitoring (optional) and remote diagnosis • 24 hour hotline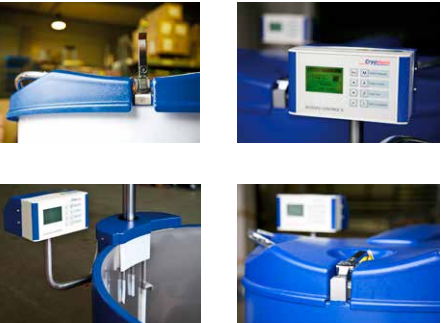 The various sizes and versions of BIOSAFE®, when augmented with the extensive range of accessories CRYOTHERM offers the complete solution for your cryoconservation tasks:
controlled and programmed freezing of your samples in controlled rate freezers
administration and security of your sample data by the sample management system
supply system for deeply cold liquefied nitrogen by APOLLO® supply and storage containers optimized for your demands
or directly supplied via a super-insulated transfer line
orderly, safe packing and classification of the samples by means of the BIOSAFE® organization system
remote monitoring of your samples by our CRYO-MESSENGER system For you we will find the optimum solution! For you we will construct the optimum Cryo-network!
BIOSAFE® 120, 220, 420 MDß BIOSAFE® 120, 220, 420 SCß for larger numbers of samples offer the following advantages at a glance: •
high storage capacity
low evaporation rate
integrated level controller and vessel monitoring system BIOSAFE® CONTROL ß
smooth surfaces – also on the lid – for easy disinfection
low, easy to operate container height
attractively designed vacuum insulated lid
ergonomic lifting/swivel mechanism for the lid
lockable lid • stainless steel finish
space saving positioning options
BIOSAFE® systems 120 to 420 are optimized for a maximum in capacity at a minimum in dimensions. The large thermodynamically optimized and vacuum insulated lid in an attractive design allows access to the materials stored in a second. Loading of samples is facilitated via the wide-neck opening in the freely accessible storage space. Its robust construction of polished, corrosion-free stainless steel ensures a long service life and a very low evaporation rate. Further security is provided by a combined evacuation and safety valve.
The BIOSAFE® systems 500 to 1400 are optimized for a maximum in capacity for a minimum of consumption. For BIOSAFE® systems of 500 liters to 1400 liters, the containers can be easily loaded via the container neck mounted at the side and the easily accessible carousel. The four smooth running rollers make BIOSAFE® storage containers mobile and even more flexible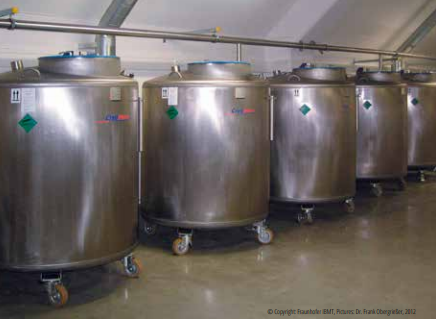 For the really large quantities of samples BIOSAFE® 500, 600, 1000, 1400 MDß BIOSAFE® 500, 600, 1000, 1400 SCß offer the following advantages:
extremely high storage capacity
extremely low evaporation rate
level controller and vessel monitoring system BIOSAFE® CONTROL ß
thermally insulated lid • eccentrically mounted container neck
easily accessible carousel for quick and easy access to samples
4 smooth running rollers, 2 can be locked
control line for level regulation implemented in duplicate (option: redundant level monitoring system)
stainless steel finish On demand:
fork lift pockets • other container sizes
redundant level and container monitoring system
Further equipment components are:
insulated filling hose, 1.5 m
solenoid valve
safety valve
holder for controller and instruments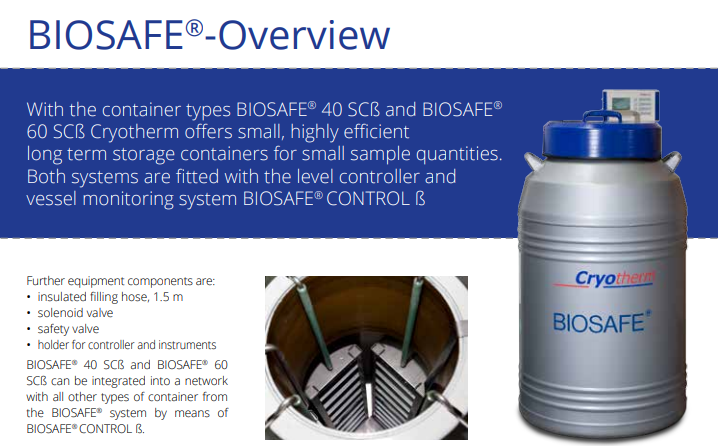 BIOSAFE® 40 SCß and BIOSAFE® 60 SCß can be integrated into a network with all other types of container from the BIOSAFE® system by means of BIOSAFE® CONTROL ß.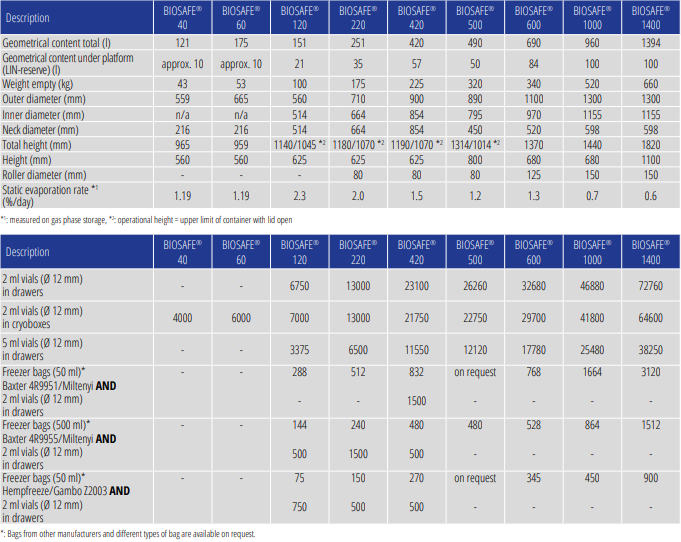 Technical Data
display of container status
level control via height-adjustable sensor with protection against manipulation
temperature measurement sensor, range -200...+50 °C (+/-2 °C exact)
overfill protection with open lid/ manual defogging possible
alarm message when: - nitrogen shortage and level exceeded - container temperature exceeded - lid maximum opening time exceeded - maximum filling time exceeded - sensor failure or sensor short circuit - and many more
display of alarm message in plain text
software and processor independent, redundant monitoring of minimum and maximum alarms with separate software alarm
potential-free alarm outputs for your building services
analogue output of temperature measurement for your building services
ethernet connection (optional) Central Functions (per network)
I/O box (option) with relay for main valve, appliance failure, combined alarm, to high temperature and 2 extra freely configurable reserve relays
collection and buffering of all Cryobank data for transfer to a PC
connection of up to 32 systems to one network • combined filling
free selection of database, thus fully network capable • interface RS 232 to PC
parameters can be set at Biosafe and at PC
MODBUS-Software as interface (RS485) to monitoring system
Advantages:
certified reliability with proven measurement principle
clear display of container status
liquid level can be set from 0 (gas phase) – 100 % (liquid phase)
easy operation at BIOSAFE® CONTROL ß and at the PC
flexible evaluation of logged temperatures and alarms
central functions for controlling main valve (I/O box, optional)
central alarm administration and transfer to the PC (E-Mail, SMS as option)
including PC-software for wide-ranging documentation of data of a cryobank
modern design coordinated with the new BIOSAFE® generation
parameters: response delay of the solenoid valve, re-cooling function, Alarm ON/OFF adjustable
BIOSAFE® CONTROL ßSoftware
in German, English, French, Spanish and Italian language
setting of all container parameters in clear and password protected pop-up windows
logging and evaluation of all temperature graphs of individual and all containers
logging and evaluation of the alarm messages and events of all containers
visualization of the container status on the PC
evaluations, lists and diagrams as protected pdf-files, csv-files (EXCEL)
Racks for Vials and Freezer Bags The new modular structure brings an orderly nature to the BIOSAFE® system and makes safe storage easy and even clearer. With this you have the organization of your samples under control and at all times you can be sure that you can access your samples quickly and directly. All storage racks for a BIOSAFE® system have the same size, no matter what is to be stored – that guarantees a universal application. The storage rack variations for vials or bags are almost unlimited. Even the standard version of BIOSAFE® offers you a number of opportunities. And if that should not be sufficient then take a look at the wide range of BIOSAFE® accessories. Here you will surely find the solution you are looking for. Of course, customized solutions are possible – contact us!
Our portfolio includes:
racks for - vials in cryoboxes - vials in drawers - freezer bags in cassettes -
SBS-Boxes (Microtiter)
canisters for straws in goblets
cryoboxes • drawers
cassettes for freezer bags
and many more
Some convincing advantages:
high storage capacity • easy handling and high functionality
safety due to various locking mechanisms
even heat distribution within the racks by using aluminum
low net weight due to stable aluminium light weight construction
optimum height adjusted to BIOSAFE® systems
ex warehouse: four standard heights (625, 680, 800 and 1100 mm)
variable positioning plans for arrangement
special designs for any desired sample that should not be sufficient then take a look at the wide range of BIOSAFE® accessories.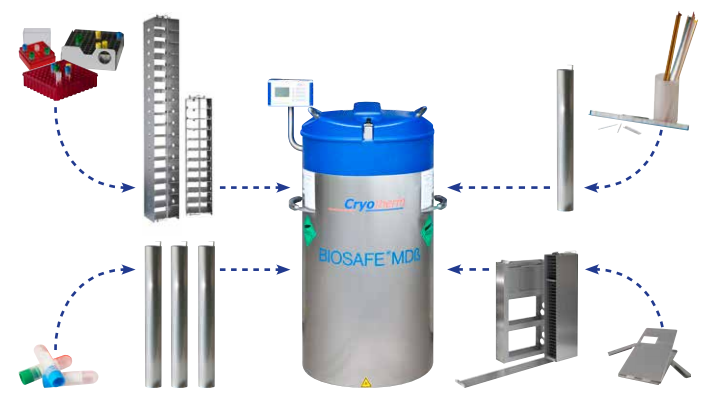 CRYO-MESSENGER® Remote monitoring via SMS, E-Mail and Co. – just a little more safety!
The remote monitoring system CRYOMESSENGER® has your cryo-containers and cryobanks on site under permanent control: round the clock, 365 days per year. CRYO-MESSENGER® transfers created data to the Global Data Center (www. cryomessenger.de) which in turn will transfer any messages to you: irrespective of whether as an SMS, E‑Mail or Fax. Of course, you can also call up data on your containers at any time. It is your choice!
Sample Administration: easy, flexible, systematic
Safe and efficient sample management is of essential significance in cryogenic long-term storage. Cryotherm offers a graphic database for a computer controlled storage strategy of biological samples. With the hardware and software we offer you a system that • provides a clear graphic layout to locate and identify samples • is easy and intuitively operated • guarantees a wide ranging protocol. Sample management made easy!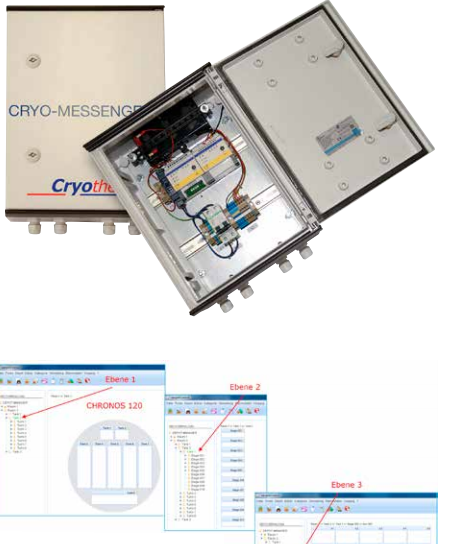 APOLLO® Supply Containers
The super-insulated APOLLO® storage containers with a low evaporation rate ensure safe replenishment of deeply cold liquefied nitrogen. Optionally you can store 50-350 liters (larger systems on demand). The extensive basic configuration, as well as the proven reliability and the robust quality, comprise important elements of the BIOSAFE® system. The container is equipped with a transfer siphon with transfer hose, level indicator, manual pressure build-up, pressure gauge and valves. Easy, safe handling due to smooth running, large rollers on the protective transport frame. The containers are manufactured from corrosionfree stainless steel.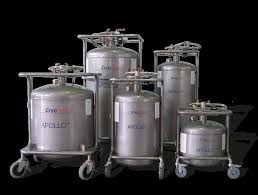 Super-insulated Transfer Lines In order that the gases get from the containers to the "point of use" with a low evaporation loss.
Cryotherm offers vacuum Super-insulated Transfer Line systems as well as associated equipment such as phase separators, decanting equipment, filling stations and connection instruments.
Transfer Line advantages:
available in rigid or flexible configurations
made from anti-magnetic, highly corrosion-free stainless steel, thus also for use in sterile rooms and in the food industry
easily expandable and combinable by means of plug-in connectors
long vacuum stability time due to the use of adsorption material and special getters
consequently, reduced gas consumption, maintenance intervals and costs
quality control in every phase of manufacture
available with quick release plug-in connectors or welded connections as a fixed installation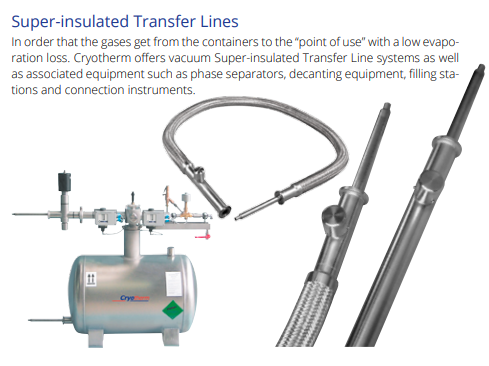 Cryobanks …
The set up of a complete cryobank is possible and unproblematic with the BIOSAFE® system. For this purpose we will gladly create a suitable concept for your assignments consisting of:
Nitrogen Supply Concepts liquid nitrogen storage tank, super-insulated transfer lines, phase separator, gas phase separator, exhaust pipes and many more
Safety Concepts oxygen deficiency monitoring, redundant systems, automatic central switching units and instruments, alarm detection and transfer, remote supervision
Measuring and Control Concepts Data creation and management system, system visualization by means of control technology, data and alarm detection, data transmission, network creation, interfaces to other disciplines
GMP Concepts Creation of design studies, execution of qualification measures (IQ/OQ)
Service Concepts Installation/assembly, start up, spare parts service, repair/maintenance, maintenance agreements, instruction/ introduction, 24 hour hotline
On request our specialist engineers will gladly advise you on matters of supply and use of liquid nitrogen. © Copyright: Fraunhofer IBMT, Pictures: Dr. Frank Obergrießer, 2012 © Copyright: Fraunhofer IBMT, Pictures: Dr. Frank Obergrießer, 2012 Turn-Key-Solutions of Cryotherm • Planning - Design and overall planning - Pipework design - Room planning - Electrical Planning - Building service - MSR planning - Safety Planning • Manufacturing / Documentation • Commissioning / Installation • Service / Maintenance • Certified quality management