About cryotherm dewars
To ensure that refrigeration is maintained for a long time, our containers and transfer piping systems have a special sophisticated insulating technology developed by our own researchers: High-quality multi-layer vacuum super insulation between internal and external containers, highly active adsorbents and a computer-aided, optimised thermal design reduce heat ingress, and thus minimise evaporation of the liquid gases. We can make the right container for you for every job. Whether large or small, fixed or mobile, for short-term or long-term storage, for laboratories or even for overseas transport.
Cryotherm containers are made of stainless steel or aluminium depending on your requirements. We allow you to store and use cryogenic liquefied gases such as oxygen, nitrogen, helium or hydrogen.
History
Tradition in the construction of cryocontainers in Kirchen-Euteneuen:
1964 Container manufacturing begins, Siegtal Trade Union

1979 Foundation of Siegtal Cryotherm GmbH

1980 Takeover by Messer Griesheim GmbH

2000 Independent subsidiary of Messer Griesheim GmbH, Messer Cryotherm GmbH & Co. KG

2004 Changed company name to Cryotherm GmbH & Co. KG and transfer to the Air Liquide Group

2014 Acquisition, continuation and further development of the core business of the Cryotherm GmbH & Co. KG by the management as a provider and supplier (independent from a gas producer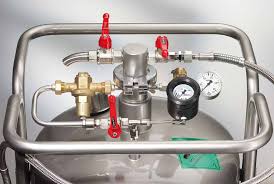 Integrated safety feature on the container neck

Vacuum seal and safety feature

Smooth-running rollers

Separate DN 50 transport plug

Fill level display

DN 50 small flange connection

Extraction siphon with waste gas and overflow valve

Integrated pressurisation

1.5m filling hose with phase sep.

Practical protective transport frame included (APOLLO® 50, 100, 150, 200, 350)

Stainless steel construction for 50l and larger
Advantages that convice:
Efficientexhaust gas cooling system

Optimized super-insulation

Compact dimensions

Robust design using highly corrosion-resistant stainless steel

Long-term vacuum protection through high-gradeadsorption and getter materials

Multilayer vacuum insulation and computer-optimized thermodynamic design with shields

Innerand outer vesseleach tested separately for helium leaks

Widerange ofaccessories
Options: • Pressure build-up controller • Pressure reduction controller • Double withdrawal at the liquid side • Double withdrawal at the gas side • Triple withdrawal at the liquid side • Triple withdrawal at the gas side • Level indicator, capacitive, battery • Level indicator, capacitive, 4 to 20 mA • Fork lift pockets • Set of guide rolls, antimagnetic • Cryo protecting equipment, complete